DWS has introduced a new physically backed exchange-traded commodity in Europe providing exposure to movements in the spot price of silver.
The launch comes a few weeks after DWS rolled out new physically backed ETCs tracking gold and platinum prices.
Similar to those previous launches, DWS already offers a silver ETC which houses over $550 million in assets under management across US dollar, euro, and euro-hedged trading lines.
Based on past examples, the introduction of newer versions of precious metal ETCs that sit alongside existing products is typically a response to client demand for a more accessible entry point (in terms of a reduced metal entitlement per share), a different domicile, or a guarantee of responsibly sourced metal, something which can't currently be assured by some of the larger products with old stocks of metal.
In the case of DWS, while some of the aforementioned reasons may have been considerations in the product design process, it appears the new products are part of the issuer's platform reconfiguration as it completes its separation from Deutsche Bank, from which it was spun out in March 2018.
The new Xtrackers IE Physical Silver ETC Securities is domiciled in Ireland and has listed on London Stock Exchange in US dollars (XSLR LN) and on Xetra in euros (XSLR GY). It is 100% backed by LBMA (London Bullion Market Association) physical silver bars stored in secure London vaults. The ETC comes with an expense ratio of 0.38% which is two basis points cheaper than the firm's existing silver ETC as well as the $180m iShares Physical Silver ETC (SSLN LN).
Additionally, DWS has introduced a new euro-hedged version – the Xtrackers IE Physical Silver EUR Hedged ETC Securities – which trades on Xetra (XSLE GY) and comes with an expense ratio of 0.73%.
Silver rally
Silver is enjoying an extraordinarily bullish run at the moment, becoming one of the best-performing commodities after the Covid-19 sell-off in February and March.
DWS's existing silver ETC – the Xtrackers Physical Silver ETC (XSIL LN) – has gained 44.4% since bottoming out on 19 March 2020.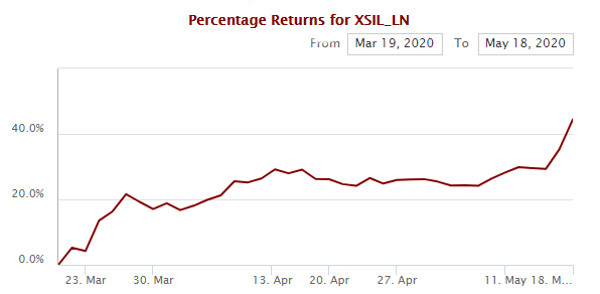 While record low interest rates have improved the relative value of silver compared to income-producing securities, the precious metal is mainly benefitting from increased demand for safe-haven assets as investors seek to bolster their portfolios against potential future market volatility caused by the pandemic's economic toll.
At the same time, silver, which has significant commercial uses, is riding a wave of optimism that the global economy can rapidly bounce back as lockdown orders are lifted worldwide. This optimism has led to a broader rally in commodities that are generally correlated with global output – copper prices are up 13.7% since their bottom on 23 March, while the price of a barrel of WTI oil has soared 68.5% (albeit from a very low base) since 28 April.
An additional factor behind silver's strong performance is a technical indicator in the form of the gold/silver ratio. The gold/silver ratio is simply the amount of silver it takes to purchase one ounce of gold. Historically, on average, the ratio has been about 50 to 1, which means you need 50 ounces of silver to buy one ounce of gold. Among precious metals traders, a ratio above 80 is generally considered a 'buy' signal for silver. As the chart below shows, it recently shot through 120, making the relative attractiveness of silver versus gold extremely high.
Where silver prices will go from here remains to be seen. If predictions for global growth turn increasingly negative, silver's rally may falter, yet at the same time, its safe-haven appeal will likely grow. Right now, the gold/silver ratio would suggest the silver is still undervalued relative to gold, so continued buying can probably be expected.
Regardless of whether gold or silver is a better buy, precious metals ETCs provide a liquid, cost-effective, and transparent way to own the metals.